行政組(Admin Team)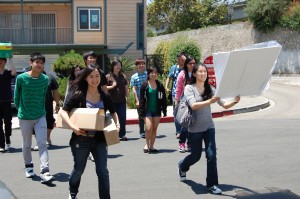 由五至十位熱心年青教友所組成,負責樂團所有音樂以外之工作,包括策劃活動、宣傳、籌款、設計、培育、及一切行政雜務等。組員除了需要熟悉堂區及教會的運作之外,還要對福傳、神學等教理有一定的熱忱,這樣才能帶領Prism發光發熱,以達到福傳之目的。因此,我們在會議當中,也會有一些靈修分享、查經分享、團契聚餐等活動,使Prism在歡樂和天主的愛中得以鞏固。
音樂組 (Music Team)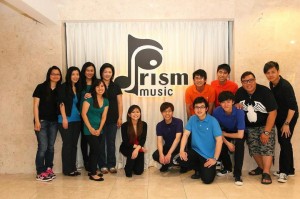 由對音樂有興趣的年青人所組成,人數不限,是Prism的主要福傳目標。我們希望籍着一起準備和演奏音樂來讓年青人建立團體精神,認識天主,從而更加熱心參與彌撒及堂區活動。因為prism以人為本,所以我們也沒有規定的架構。任何有誠意參加我們都會盡力安排。除了舉行音樂會來福傳外,準備音樂的過程本身也是福傳。所以,我們建議成員多些邀請非教友來參加,從而初步認識天主教。但是為保障團體的目標明確,我們建議非教友不能超過半數。
創作組(Composing Team)
由對作曲、填詞、編曲等有興趣的教友所組成。藉此一起交流創作福傳歌曲的心得,也能一起去研究歌曲是符合天主教神學及教理。我們也會定期靈修,求聖神引導我們,譜出屬天的歌韻。

The admin team is formed by 5 to 10 enthusiastic young Catholics, whom will be responsible for any non music-related tasks i.e. planning, publicity, fundraising, design, training, and all other administrative chores etc. Members in addition to familiarize with the operation of the parishes, also be passionate in evangelization and theology, in order to assist PRISM to reach its evangelization goal. Therefore, we also have activities such as bible/spiritual sharing, fellowship dinner during our meeting, to strengthen our relationship through joy and God's love.


PRISM does not has a set format because of its people-oriented architecture. The music team is our main evangelization goal. It is formed by a group of young people who are interested in music, we try our best to accommodate anyone who sincerely interested in joining us. We are hoping that through preparing and performing together, enable young people to build team spirit and to know God, thus motivate them to attend mass and parish activities. We encourage our members to invite non-catholic to join. However, in order to protect our team goal, we recommend that the music team cannot consists of more than 50% of non-catholics.


The composing team is formed by a group of Catholics who are interested in music i.e. music composing, lyrics writing, music arranger etc. They exchange experiences in writing and creating evangelization songs in line with Catholic theology and catechism through working together. We attend spiritual formation in a regular basics, to seek the Holy Spirit's guidance to compose more songs for God.